You are here
2016 Recovery Workforce Summit
The State of Recovery in the World of Psych Rehab: Our Collective Vision Put Into Action
May 22-25, 2016
Presented by PRA and PRF, in partnership with MassPRA
Sheraton Boston Hotel, Boston, Massachusetts
 
For registration for the 2016 Recovery Workforce Summit, please contact LaTrese Wallace with PRA directly at (703) 442-2078 or you may also register onsite (your valid payment must accompany your onsite registration).
The 2016 Recovery Workforce Summit offers a comprehensive line up of in-depth psychiatric rehabilitation training and enhanced networking opportunities and special events to provide attendees with the tools they need to help others more effectively. The Summit provides high-level education sessions for the entire psychiatric rehabilitation workforce; including agency executives, educators and researchers, practitioners and peer support providers with a specific focus on best practices, evidence-based practice, integrated healthcare, wellness, supported housing, and supported employment.
Why you should attend
Never before has behavioral health been so important. Healthcare is changing by the moment and it is moving towards a system of care that reflects our psychiatric rehabilitation principles of self-directed care, self-managed care, wellness, resiliency and overall healthy functioning. Join us at the 2016 Recovery Workforce Summit to stay abreast of emerging trends and build new skills and resources that will enable to you excel as a psychiatric rehabilitation professional. Designed to educate, inspire, and celebrate the recovery workforce, the Summit is your opportunity to make an investment in yourself. Brought to you by PRA/PRF, in partnership with the Massachusetts Chapter, MassPRA,  the Summit offers a comprehensive line up of in-depth psychiatric rehabilitation training, enhanced networking opportunities and special events to provide attendees with an experience you won't find anywhere else.
The Psychiatric Rehabilitation Association (PRA) and the Psychiatric Rehabilitation Foundation (PRF) are committed to growing and training the recovery workforce through promoting wellness and recovery around the world. The recovery workforce is broad and diverse, working with:
Adults

Transition age youth

Children

Families
​Need a printable flyer to share with your colleagues or organizational leadership?
Who should attend
PRA and PRF attract the behavioral health workforce, including but not limited to:
Practitioners · Peers · Veterans Administration · Office of Mental Health (OMH) · Primary Care Providers · Executives ·Case Managers · Educators · Occupational Therapists ·Social Workers · Rehabilitation Counselors · Psychologists · Psychiatrists · Counselors ·Residential Services · Managed Care · Administrators · Policy Makers · Clinicians · Family Members · Nurses ·Friends · Researchers
How you can attend
Registration for the 2016 Recovery Workforce Summit is now open. Register today for the best rates with rates.
Full Registration, May 22-25
PRA Member: $510.00
PRA Non-Member: $630.00
For more information on registration rates for the Veteran's Administration, 2016 Summit Faculty, 1-Day attendance or how to register groups of people from your orgnization, please visit our Registration Information page.
Sponsor the Recovery Workforce Summit
Act now and sponsor the 2016 Recovery Workforce Summit!  View the Sponsorship Opportunities and contact Kathy Bradley at kbradley@psychrehabassociation.org to dicuss your sponsorhip today.
If you have sponsored the MassPRA Conference in the past two years you can take advantage of these special sponsorship opportunites.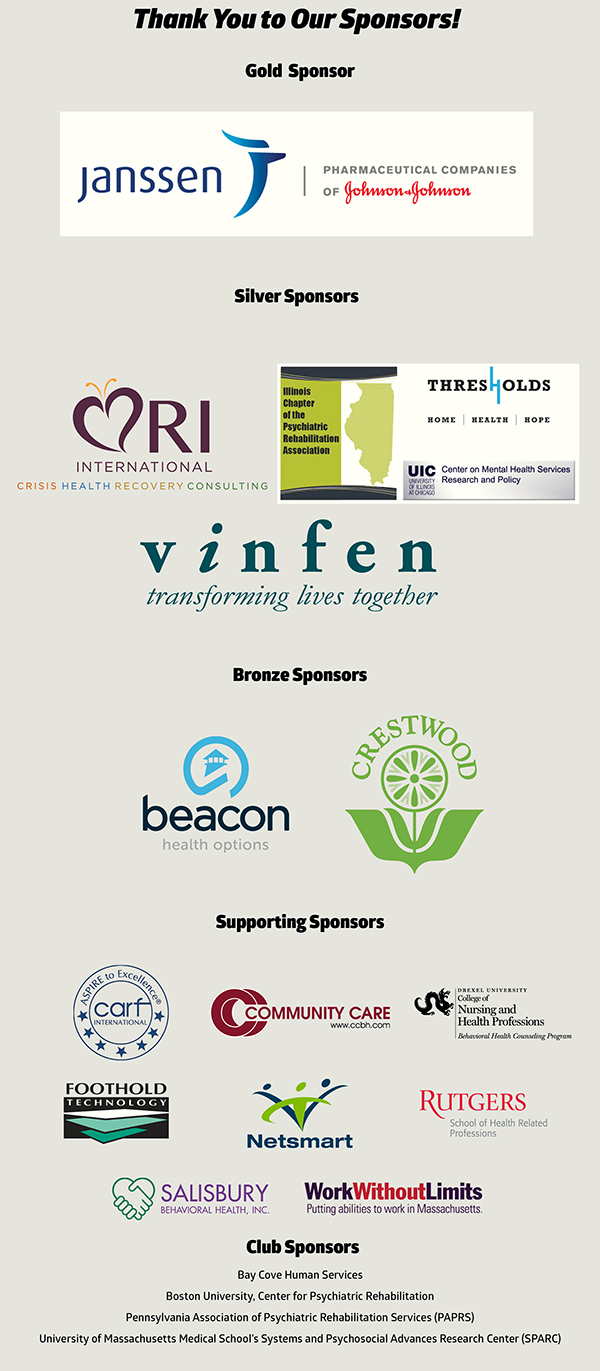 Questions? 
Please contact us at info@psychrehabassociation.org or by phone 703.442.2078.
Looking forward to the Summit? Tweet about it! Follow us on Facebook and Twitter @psychrehab #psychrehab16
Record Number of Submissions Received for 2016